I can't stop listening to Christmas songs.
TODAY WAS SUCH A FUN DAY. <3
Beccah: DDRM
axx

!?
Nikki: --
axx
!?
Donica: --
axx
!?
Me: --
axx
!?
Thanks Beccaaaaahhh :D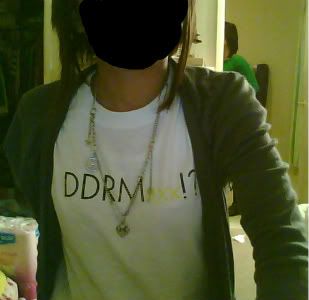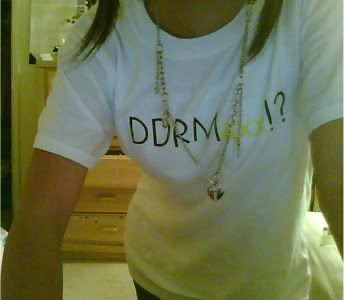 Teasing Beccah's hair is such a biotch. xD
IT WILL NOT STAY UP.
Anyways. Last C+AZ for the year. =/
Donica was making an Asian horror movie. xD Freakin' dragging herself all over the floor trying to get some static to touch me with.. but in the end.. all that dragging got her no where. xDD
---
Donica & Nikki were HELLA into the.. Gears of War game? Gods of War? I have no freakin clue. xD
HAHAHHAHA. "It's okay, we still have each other."
---
Me and Beccah went crazy with the make-up.
She kept making me pretty.. but I kept making her look like an asian hooker, trashy, & a female Jonas.
Then she made me a panda. xDD
I dont even know WHY she was attacking me on the floor. Hahaha.
She and Nikki are so easy to beat tho. :]
--------------
I hella went home w/ my panda make-up still on. WHITE circles around my eyes... traced in black. Black nose. Omg. xD
Darian: "Meowww" <33
So, I was walking to the stairs and there was this family ahead of me and one of them looked behind me, and stared at me, and I guess told another one of them since they looked at me. xD
FREAKIN PANDA MAKE-UP. xD
-----------------------------------------------------------------------------------
So I'm alone and decide to help my dad wrap gifts.
WE FAIL.
Dad: "Yay! I have re-inforcements!"
20 min. later.
T: "Dad.. I only really helped rip pieces of tape whenever someone wrapped gifts."
Ohh, my gulay.
---
I wanted to go to sleep so I was laying there and I sat up a little so I could put some music on on the computer when someone freakin runs in the room and tackles me.
In my had I'm thinking "Dad, what the f--?!"
But it was, of course, my stupid brother.
COOKININAM
!